Ally Bank is known to be one of the country's best financial institutions and for all the right reasons. It was launched initially as GMAC, which later revamped in 2009 as a friendly and upfront online bank.
It offers new and innovative financial services with its array of deposit and mortgage products. It extends a high interest-paying checking and savings accounts, money market, and CD investors.
It also maintains the safety procedure of the bank and account holders by checking the accounts from which money is received in the bank.
The best part that interests so many new customers every day is the no-maintenance fee account, along with a live customer service working 24×7 for any dispute or other resolutions.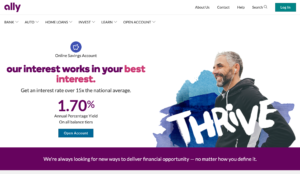 History of Ally Bank
In the year 1919, General Motors Corporation founded a company, namely General Motors Acceptance Corporation (GMAC). The main objective of this company was to provide financing services for its already existing customer lot.
It headed to become an everyday functioning bank by incorporating and expanding its operations.
Later, by the end of 2009, about 90 years into the business, GMAC renamed the company to Ally Bank. It was then that GMAC had been suffering quite a bit of financial crunch at that time and wanted to give a fresh beginning to the company.
Again in 2010, it was rebranded as Ally Financial. It finally entered the online brokerage system in 2016 by buying TradeKing and naming it, Ally Invest.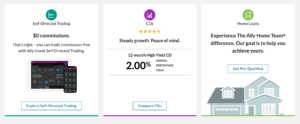 This bank uses premium standard security procedures to protect its customer information. As it only operates online, it lets the users connect through a secure browser and locks transactions of any account that provide consecutive incorrect login information.
Also, Ally Financial lets you add up to 20 external bank accounts making it extremely easy to transfer and move funds from one to another.
Ally Bank is in many prospects, let us now check how happy their customers are with the services-
Commissions & Fees – 9.5/10
Customer Service – 8.5/10
Ease of Use – 9/10
Savings Options – 10/10
Rates – 9/10
Ally bank boasts of having more than 1 million for their checking, savings accounts, mortgages, and loans. It is used by over 60 percent of Americans for their daily online transactions.
Also, it has more than 43,000 all point ATMs all across the US.
The various features that Ally Bank offers are:
Types of bank accounts: Checking, savings, money market, and CDs
It allows accessing Ally online banking using their website, and iOS and Android applications
ATM reimbursement
Online deposits
FDIC insurance
Let's take a closer look at the features:
Banks Accounts:
There are four types of accounts that you can open with the Ally bank which are-
#1 Checking
Unlike other checking accounts, the ones with Ally bank has some exciting features to it which are as follows-
A debit MasterCard
Free use of any Allpoint ATM in the US.
eCheck Deposit using which you can easily upload a photo of your check from your cellphone
Wire money from almost all US bank accounts using Zelle
Online bill payment
$10 reimbursement per payment cycle for out0of network ATM fees
5% APY for accounts within maintaining a daily balance of over $15,000, 0.1% for lesser amounts
No monthly maintenance fees
#2 Savings Account
Paying relatively higher APY on deposits, Ally bank is an excellent choice to have a Saving Account. Its features include-
7% APY regardless of your account balance
No initial deposit or maintenance fee charged
Available for taxable and IRA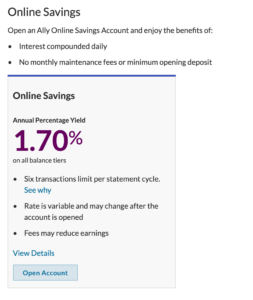 #3 Money Market
The Ally Bank Money Market account has a relatively competitive rate of interest. It is nothing but a hybrid of the checking and savings accounts. It means you can both spend your money quickly and also earn interest on it keeping it.
The features that this type of account offers are-
six free transactions per month (payment/transfer)
unlimited deposits and ATM withdrawals
Available for taxable
No account maintenance fees
Up to 0.75% APY, no minimum balance required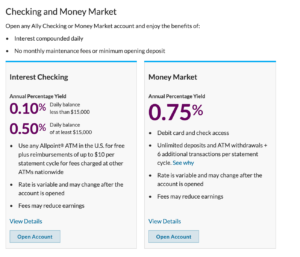 #4 Certificates of Deposit (CD)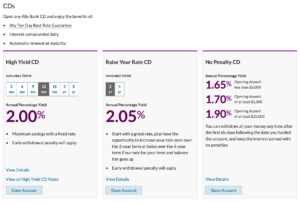 Ally bank offers two types of CDs, which are standard CDs and liquid options.
Standard Certificates to Deposit generally have a high-interest yield, but it requires you to keep your funds with the bank. The rate of interest remains constant until maturity, which can both be a good or bad thing.
But, in case you are stuck with a low rate of interest for several years, Ally gives you an option to raise your rates.
The liquid CDs are no-penalty CDs that have a shorter tenure like 11 months and can be withdrawn quickly without too much hassle.
Have a quick look at the CD rates:
High Yield CDs– Fixed deposit
Term

APY (Annual Percentage Yield) (%)
Minimum Deposit

($)

3 months
0.75
–
6 months
1.00
–
9 months
1.25
–
1 year
2.00
–
18 months
1.90
–
18 months
2.00
5,000
18 months
2.05
25,000
3 years
1.95
–
3 years
2.05
5,000
3 years
2.10
25,000
5 years
2.25
–
Raise Your Rate CDs – Raise your return rates
Term

APY (Annual Percentage Yield) (%)
Minimum Deposit

($)

2 years
2.05
–
4 years
2.05
–
No Penalty CDs – No penalty withdrawals
Term

APY (Annual Percentage Yield) (%)
Minimum Deposit

($)

11 months
1.65
–
11 months
1.70
–
11 months
1.90
–
 Other Services
 Ally also offers other financial services like:
Individual Retirement Accounts – For people looking out to save for retirement, Ally bank offers pretty decent options like traditional, Roth, and SEP IRAs.
Investment (Nonbank) Options – This is another wealth management services that Ally bank provides you. You can select your bonds, stocks, mutual funds, and ETFs for a self-directed investment. Ally also uses an automated platform to place funds on ETFs, but it does not guarantee funds as it is not FDIC insured.
Loans – Ally bank provides several types of loans, including home loans, auto loans as well as credit cards.
Corporate Loans – Ally offers corporate loans in several sectors or industries like technology and finance, retail, healthcare capital, automotive, manufacturing, and also business services.
Alternatives to Ally Bank
Other financial institutions and payment apps in the US are well-known and rated to provide excellent fiscal services as well.
Let's compare the features of Ally bank with its contemporaries-
| | | | |
| --- | --- | --- | --- |
| Bank | Ally Financial | CIT Bank | Discover Bank |
| Accounts | Checking, Savings, Money Market, CDs | Savings, Money Market, CDs | Checking, Savings, Money Market, CDs |
| Online Deposits | Yes | No | No |
| Promotions | – | 1.85% APY Money Market a/c | – |
| Customer Rating | 9/10 | 8.5/10 | 7.5/10 |
How does Ally Bank work?
Ally is a pretty good option for customers to bank with them owing to the comparatively higher rate of interest that it provides mainly on savings accounts and CDs.
Also, saving the time of customers to reach the branch for information, Ally has used the amped-up technology to boost convenience overall.
Also, other than features that the individual types of accounts offer, Ally also extends the below-mentioned features to every account with Ally Bank.
Opening name with a Trust – offering enhanced security and flexibility
FDIC insured – Ally provides insurance on deposits up to the maximum amount that is allowed by law ( up to $2,50,000 per depositor)
No-monthly maintenance fees No minimum opening deposit
The FDIC insurance of deposits is a massive call for the customers as Ally is only an online-banking system. So, it is essential that the depositors to have a kind of security for the amount they are depositing in the bank.
There are times when you deposit an amount, and Ally holds it for a temporary period. The various hold times for deposits are as follows:
Checks that are drawn on Ally: Funds available next working day
US treasury checks payable to customers: Funds available next working day
Other checks payable to you: Within five business days
The other useful feature of Ally bank is their 24×7 customer service, which provides both active and fast assistance.

How to Bank with Ally Financial
The procedure to open an account with Ally bank is easy and straightforward. You can either visit their official website or call them.
Just like every other financial institution, you need to share your personal information like:
Full name of the account holder
Social Security Number (SSN)
Tax ID Number (TIN), if applicable
E-mail address of account holder
Phone number of the account holder
From the above descriptive review of Ally bank, we have jotted a few pros and cons of the financial institution below:
Pros:
High-interest paying checking accounts
24×7 customer care service
Zero maintenance fees
No minimum deposit for opening or maintaining an account
Highly APY rates as compared to other banks in the US
Easy and simple online interface for convenience
AllyInvest for both banking and investing from the same forum
eCheck deposits with just a photo with your cellphone
Cons:
No face-to-face contact with any bank employee
It does not accept cash deposits
Transaction limit up to 6 beyond which the bank charges $6 per exchange on savings account
Summary
Ally Bank is the right choice from customers looking for checking and savings account. It can be rated better over others on many grounds, such as zero fees, online service convenience, and all-day extended customer service availability.
Ally Bank is an excellent one-in-all solution for both banking and investing prospects.