If you're involved in digital financial transactions within the US, then we have good news for you! Zelle is one of the latest peer-to-peer (PTP) money transfer systems that allow transactions across different bank accounts within a short period of time.
So, what makes it unique? Read on to find out more.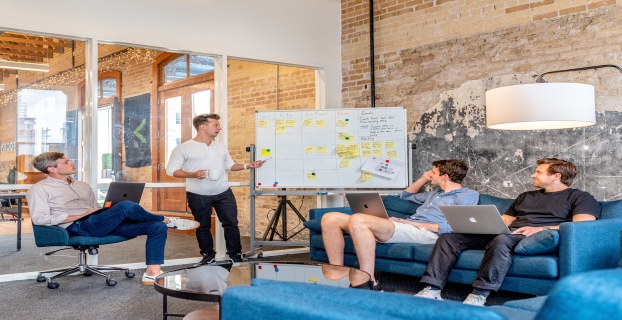 General Information
The platform was launched in early 2017 and has evolved to become one of the fastest, safe, and convenient methods of sending and receiving money across accounts in different banks. Despite PayPal-owned Venmo dominating the US digital transactions market at the time, Zelle performed quite well in its first year, with total transfers totaling $75 billion.
The Zelle system, which includes both a web portal and a dedicated mobile app, is owned by Early Warning Services, which is in itself a consortium owned by 30 major US banks. This includes some of the biggest banks in the US and the world, such as Bank of America, Chase and Citi Banks and Wells Fargo.
As it is, more than 50 banks across the US support the Zelle platform and have integrated it into their websites as well. Users can make transactions via the Zelle app, or via the mobile banking apps of their bank(s). Apart from individuals, businesses, companies, and charities can also send and receive money via Zelle Pay. Sounds good, right?
How Does Zelle Work?
For you to send money through Zelle, you need to be a registered user. Membership is free, and you can register on the Zelle app interface or through the Zelle link in your bank's mobile app. If the recipient is also a registered user and their bank is among Zelle's partners, the transaction will be done in 2-5 minutes.
However, if the recipient uses a bank outside the Zelle network, the transaction will be slower, taking anywhere between 2-3 business days, sometimes even more. To send or request for money or a charge, whether from your friends or customers (if you're a business), you need to make sure they're registered on the Zelle platform. Otherwise, there will be delays.
Notably, unlike other instant payment services like Venmo and Cash App, which allow you to make transactions with anyone who has the apps, Zelle involves transactions between banks.
To send money to a person who hasn't linked their bank account to the Zelle network, you need to input their email or phone number. The system will then send them an SMS or email informing them of the payment, and a link through which they can accept the payment.
If their bank is a Zelle partner, all they need to do to complete the transaction is open a Zelle account through their bank's website or mobile app. Once they get their account going and approve the transaction, the money is transferred within a couple of minutes. Note that, the timelines depend on how fast your recipient is able to register on Zelle and link their bank account.
Notably, one doesn't need to link their bank account to receive money through Zelle. The app allows transfers to debit cards, as well. However, to send money, you need to have an active deposit account with one of the partner banks.
Transaction Charges
Being owned by a banking consortium, Zelle does not have transaction charges, which means you can send and receive money without worrying about deductions. There is a catch, however. Different banks have different charges, and these charges may be reflected in your Zelle transactions, so it's essential to first confirm with your bank before sending money.
What's the Maximum Amount You Can Transfer Via Zelle?
Initially, Zelle limited the amount one can send and receive daily and monthly. This, however, was not received well by the public, since other services such as PayPal allowed huge transactions.
Currently, Zelle has no maximum transfer limits of its own and leaves it to the individual banks and credit unions to determine their own limits. Meanwhile, users whose banks or credit unions are not part of the Zelle network can only send $500 per week.
Benefits of Using Zelle
Notable benefits of transferring money using Zelle include:
No transaction fees: You can send or receive any amount for free!
Easy to use app and web portals.
No minimum limit.
No sign-up or agent fees.
Transfers are instantaneous when both parties have Zelle-affiliated bank accounts.
They are backed by a large number of renowned and reliable US banks.
Downsides of Using Zelle
There are a couple of challenges that you will probably face when using the Zelle service. Of course, some of these vary from user to user, and you may not necessarily experience them. These include:
The biggest drawback is that you need to have an account with a Zelle partner bank to make instant transactions. To this end, PayPal/Venmo and Cash App are much better options.
Zelle only allows USD transactions to US bank accounts only. Won't be of much help if you normally send and receive money from overseas.
Lack of standard transfer fees leaves users vulnerable to exorbitant bank charges.
Is not supported by most online stores and businesses, which makes it difficult to use it to make purchases
There are no transfer reversal or buyer protection mechanisms, as there is on PayPal. If you mistakenly send money to the wrong person, you can only hope that they're honest and will return it. Otherwise, there's little you can do.
In Summary
Zelle is essentially a great idea, and Early Warning Services deserve praise for disrupting the market and giving us a viable alternative to PayPal. If you have a bank account affiliated to Zelle, you might want to check it out and see if it works for you. It's free, after all.
Nonetheless, I don't see Zelle taking over PayPal's international market yet, as it's processes and procedures are too rigid and tailored for the US only. There are also concerns about the safety of transactions made over the service, and I wouldn't advise you to make huge transactions on the platform.