In the recent past, there has been an upsurge in the number of digital wallets available to consumers. Among these is Venmo, a PayPal subsidiary, and Cash App.  Digital wallets have made it easier for people to send and receive money from family and friends, load a card, and move money to bank accounts.
Since it was launched in 2013, Cash App has become a must-have for individuals looking for the freedom of mobile money. Unlike the other alternatives, it is not just a platform for the tech-savvy. Its popularity stems from the fact that you can make payments using a debit card. When it comes to its features, Cash App does not seem to match what PayPal and Venmo have to offer.
In this write-up, we provide an honest Cash App review so that you can decide to adopt it or not.
How to Sign Up For Cash App?
The Cash App sign-up process is simple. After downloading Cash App from Google Play and iTunes, you can go ahead and sign up for this mobile payment service. You may also go to Square's Cash website to sign up.
You will need to enter your mobile number or email on which you will receive a confirmation code from Cash App. In place of an actual password, you will use the passcode sent to your email or phone to log in to your account.
Upon first-time sign-in, Cash App will ask you to link it to a debit card. In the future, you will have the opportunity to connect a credit card or more bank accounts. Using a credit card to fund the wallet will attract a 3 percent fee, which is not much anyway.
Setting up your Cash App account is that simple. Once you are through with the process, you can start using your account. It is possible to change your account settings online or through the app. Only the most important ones can be changed within the Cash App.
Deposits into Cash App will reflect in your account after 24 hours. However, you can get instant transfers by paying a 1.5 percent fee of the amount being transferred. How quickly the deposit is made is also largely dependent on the bank. You will experience delays if that's how your bank handles transactions.
On Cash App, you can also make direct check deposits. This works only for the individuals with no bank account other than Cash App. Such individuals would spend their money using the Cash Card. You can also use Cash App when buying the bitcoin.
Using the Cash Card for Payment
Due to the lack of acceptance of mobile wallets as payment methods, you can take advantage of the Cash Card. Using it, you can make purchases online and in brick-and-mortar stores. To order for and activate the Cash Card, all you need is to log in to your Cash App.
The card comes free of charge and can be used to make cash withdrawals at ATMs, especially if you are a personal user. Cash merchant Cash Cards do not allow for ATM cash withdrawals. For the merchants, the cash paid by their customers goes directly to the business bank account. They can, therefore, withdraw their money directly from their bank account without the need for a cash card.
One thing you won't get with Cash App is its integration with the Square Point of Sale. Merchants are forced to pay money from both the app and point of sale into a single account.
Did you know that it is possible to get cash-back rewards for merely using a Cash Card? Known as Cash Boost, this cash-back system works only when spending money at individual merchant shops. You have the freedom to choose your Cash Boost, although limited to only one per day. However, it is not clear how merchants can enroll in the Cash Boost program.
How to Use Cash App for Business?
Cash App for business makes it possible for merchants to accept payments from buyers. It enables the tracking of every transaction by leaving behind notes for future follow-up. You will pay a 2.75 percent fee for every completed transaction, like the Square Point of Sale.
However, Cash App lacks some key features, such as inventory control. All you get is a way of requesting for money a platform through which people can send it to you. It works very well for service-oriented and mobile businesses. Thus, personal trainers, hairstylists, consultants, and make-up artists will find Cash App very useful. Organizations running fundraisers or which collect donations will find Cash App beneficial.
To use Cash App for business, all you need is a mobile device connected to the internet. However, you cannot use it to generate sales data. That's why you may opt for Square Point of Sale, which offers numerous features at the same 2.75 fees. The only thing that could make you stick to Cash App is that it requires no card swiping.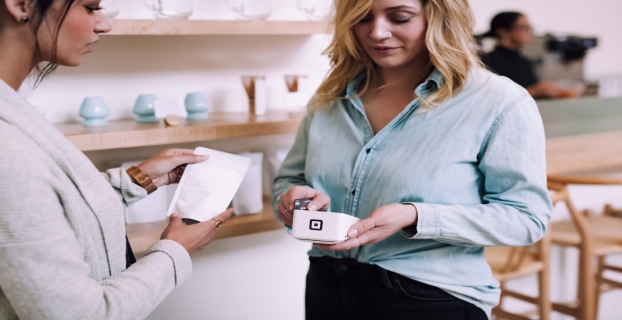 What is a Cashtag?
The 'Cashtag' is a way of identifying yourself while making transactions on Cash App (https://cash.app/$yourcashtag). Since they are unique to every Cash App user, Cashtags are essential when it comes to sending money. But it is not a must. It is also possible to send money using the recipient's name, phone number, or email address. Cashtags help businesses to create a famous brand conveniently. Thus, companies can send out Cashtags as a way of requesting for money owed to them.
Cash App: The Fine Print
If you are expecting a catch from Cash App, you will be disappointed. Rarely are you required to divulge extra information before you reach a certain transaction threshold. You will have to verify your identity. For a business, you could be required to provide additional information in conformity with IRS guidelines. Regardless of the stage at which you are in the registration process, your Cash App account can be terminated without notice.
Is Cash App Worth Using?
Compared to PayPal and Venmo, Cash App lacks some features that could make it phenomenal. But if all you want is to send and receive money, this is undoubtedly an option to consider. To send money, you do not need to create an account. If you wanted to use it for business purposes, Cash App is not for you. It limits you in terms of the things you can and cannot do. Before you sign-up, you should be sure that you need it.