Cash Grab sweepstakes are great to try your luck. There are many types of sweepstakes events available. Among them, one of the most popular ones is the PrizeGrab Sweepstakes. It is an online website where you can participate to win prizes. And, it is totally free of cost.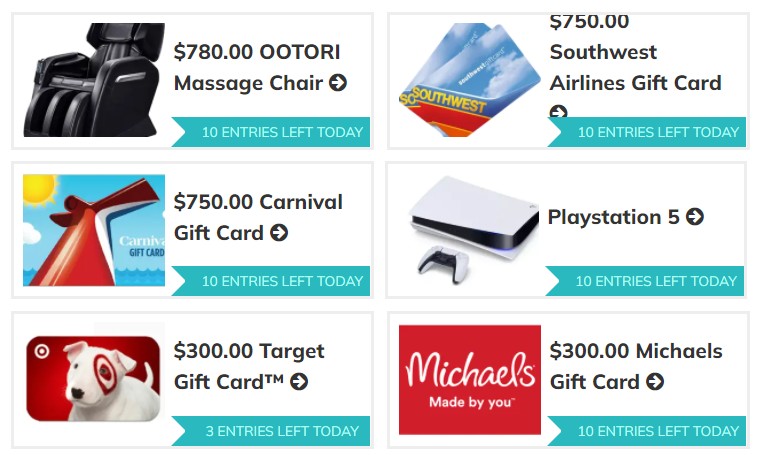 But many of our readers are curious to know about the PrizeGrab Sweepstakes. They want to know whether it is a legit scheme or just a scam. They also want to know how to participate or how to collect their prizes if they have won.
To answer all of your queries, we have come up with this post. In this post, we will talk about PrizeGrab Sweepstakes in a detailed matter. You will find answers to all the prevalent questions regarding PrizeGrab Sweepstakes in this post.
So without further ado, let's get to it…
FAQ About Cash Grab/PrizeGrab Sweepstakes
In this section, we will answer some fundamental and frequently asked questions about PrizeGrab Sweepstakes. So here we go…
What is PrizeGrab Sweepstakes?
First of all, we will talk about what is PrizeGrab Sweepstakes is. Simply put, it is a website where you can enter sweepstakes online. In return, you will win a chance to win different prizes. Interestingly, there is no fee to enter into these sweepstakes. And there are a lot of prizes.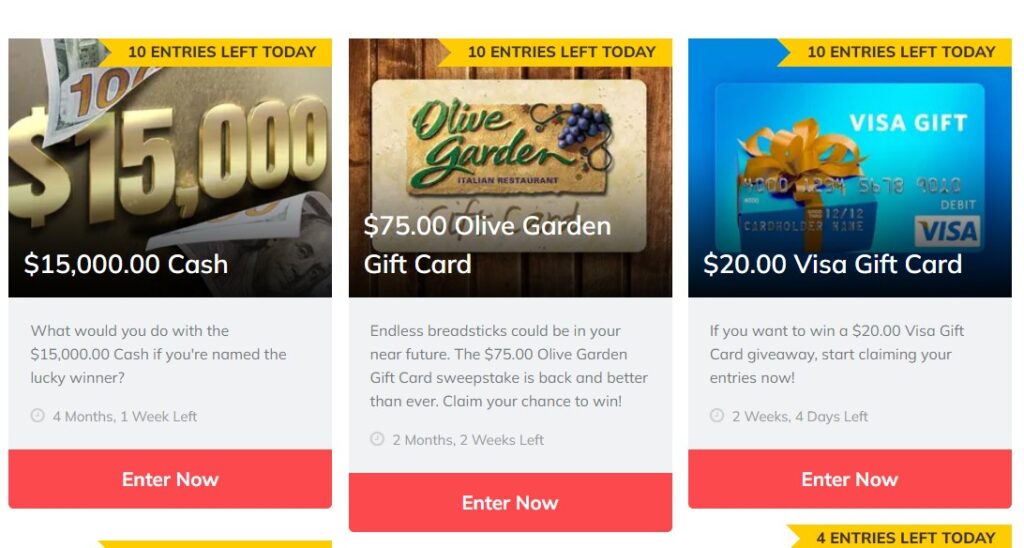 The website was founded back in 2013. And since its inception, it is getting popular day by day. At the moment, the website is receiving more than 2 million visitors per month. So you can see that this is indeed a popular place on the web.
Is PrizeGrab Fake?
No. PrizeGrab is a legit website serving since 2013. As we have just mentioned, this website is receiving almost 2 million visitors per month. So you can rely on that. In addition, they also have the 'Excellent' rating on TrustPilot.
But we must say that you have to be very careful as many scamming websites are out there. For example, many scammers are trying to replicate the PrizeGrab Sweepstakes website. And they will collect your email address to send you spam messages.
Eligibility of Participating in PrizeGrab Sweepstakes
Unfortunately, PrizeGrab is not for everyone. There are certain requirements you will need to meet if you want to enter into a PrizeGrab Sweepstake. We will talk about them one by one here in a detailed manner. So here we go…
You must be 18 years old or older.
You must be a legal resident of either the USA, Puerto Rico, Guam, The US Virgin Islands, or other US territories.
Also, you cannot be an employee of PrizeGrab or their families
Of course, you will need a valid email address
So if you tick all the boxes above, you know that you are good to go to enter the PrizeGrab sweepstakes.
How to Participate in PrizeGrab Sweepstakes?
It is straightforward to participate in PrizeGrab Sweepstakes. Go to their official website and create an account. You can also use your Facebook account to log in to your PrizeGrab account. Otherwise, you will need to use a valid email address to open the account.
Next, you will need to provide some personal information about yourself. For instance, you will need to share your full name, ZIP code, email address, etc., with them. Also, you will need to set a strong password to finalize your account. On top of that, you need to meet all the requirements to participate in the PrizeGrab Sweepstakes. We have already talked about these requirements earlier.
What Can You Win at PrizeGrab Sweepstakes?
PrizeGrab offers a lot of different prizes. The list of the prizes varies day by day. The range of the prizes starts from 10 USD to 25,000 USD. Normally, the prizes are products, gadgets, home appliances, and more. Interestingly, you can also win cash from PrizeGrab Sweepstakes.
Also, some prizes have a cash option instead of the actual prize. So if you want, you can take the cash option instead of the actual prize. For more information about the prizes, you need to check out their official website because the list of the prizes is updated regularly.
How Does PrizeGrab Sweepstakes Make Money?
Many people are wondering about the financial model of PrizeGrab. They want to know how PrizeGrab makes their money. Because you don't have to pay or buy anything from them to participate. As a result, many people find PrizeGrab skeptical as it doesn't cost anything to enter into a PrizeGrab Sweepstake.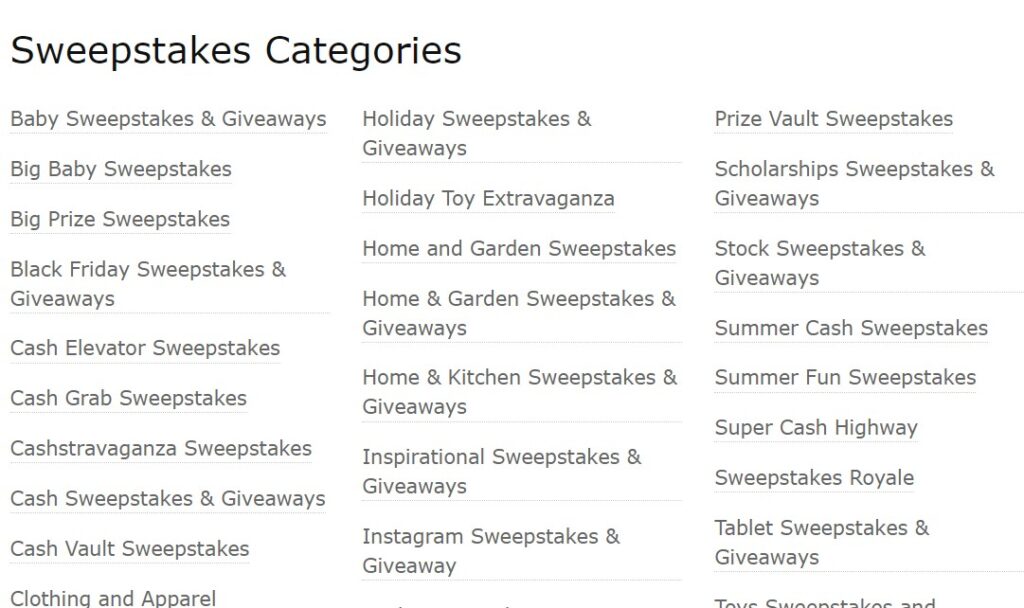 Simply put, there are many ways PrizeGrab makes their money. Some of the notable ways are via website advertisements, affiliation, and sponsored email marketing.
How to Maximize Your Chances of Becoming a PrizeGrab Winner?
Everybody has a chance to be a PrizeGrab Sweepstakes winner. However, we know that it is only the luckiest who will win. So how do you maximize your chance of becoming a PrizeGrab winner? Fortunately, we have some tips for you. Here are those…
Multiple Tries: You can enter into multiple PrizeGrab Sweepstakes daily. So, you should try on different prizes every time. That way, you will increase the chance of winning it.
Try Daily: There is no restriction that you cannot enter into PrizeGrab Sweepstakes daily. And you know the more you will try, the chance of being a winner will be increased for you.
Follow Them on Social Media Platforms: PrizeGrab has a substantial social media presence. As a result, they announce their prizes and contests on their social media sites regularly. So, if you want to be informed about new contests and prizes, you should follow them. And it will increase the chance of being a winner.
Check Your Inbox: If you win, then you will be notified by email. So, it is better to keep checking your email from time to time. Also, it is essential to provide a valid email address.
Try the 'Entry Streak': If you submit 10 or more entries in a day, you have started an entry streak. For each entry streak, you will receive points. And you will be able to use these points using bonus entry opportunities in the future.
Can You Win Multiple Prizes on PrizeGrab Sweepstakes?
Of course, it is possible to win more than one prize on PrizeGrab Sweepstakes. Interestingly, we have found out that 1500+ participants have won more than one prize at once. It is because the prize drawing process is totally random, and one can win multiple prizes anytime.
Is It Possible to See a List of the Winners of PrizeGrab Sweepstakes?
There is no complete list of all the PrizeGrab Sweepstakes winners to date. However, you can see a list of the featured winners. To see that, you should go to their official website.
What is the Odd of being a PrizeGrab Sweepstakes Winner?
Actually, it is tough to answer this question accurately. However, because the odds change daily depending on the value of the prize and the contest's duration, we can give you an idea about this.
You know that the website receives more than 2 million visitors per month. But reports say that there are only 6500 winners so far among all the participants. However, in total, those fortunate winners have received 2 million dollars worth of prizes.
What if You Don't Claim Your PrizeGrab Sweepstakes Prizes?
If you are a winner, then PrizeGrab will notify you via email. So, you will need to check your inbox regularly if you have participated in a contest. However, it is possible that you have missed the email or you don't want to claim your prizes.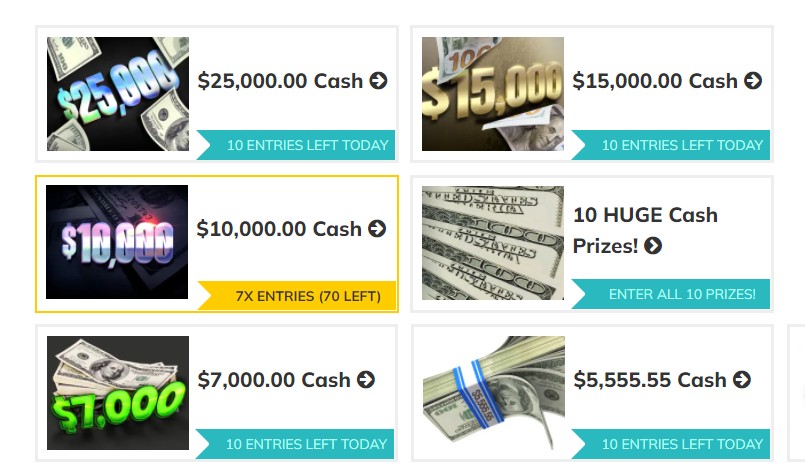 In that case, PrizeGrab offers those unclaimed prizes in sweepstakes again. So you will have another shot at winning at it. Remember, you have to claim your prizes within 10 days of the announcement.
The Bottom Line
Cash Grab Sweepstakes are legit. At the same time, it is free of cost to participate. And if you are in luck, you might win a fortune. So, there is no denying that you should try your luck if you are eligible to participate in this. Simply go to their official website and sign up using all valid information. And you already have a chance to win big with PrizeGrab Sweepstakes.
You should always be very careful when signing up for PrizeGrab Sweepstakes because many fake websites replicate PrizeGrab. Also, you need to use a valid email address while signing up for this. Otherwise, you might not get the important email that you have won a prize.
Anyways, we believe that you have found this post useful. In that case, you can share it with others. And if you have anything to add or suggest, you can let us know in the comments below!
More Posts for You: